Our molding shop manufactures cleaning spheres or pellets.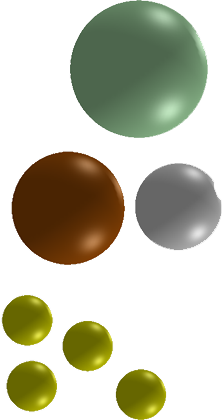 Cleaning spheres or pellets are small rubber balls or pellets that come in varying hardnesses and diameters, depending on their application.
They are used to clean or prevent build-up of products which have a tendency to accumulate.
The spheres or pellets are set in motion by a current or by vibration and remove any product build-up as they bounce against the surfaces.
Spheres or pellets are frequently used to unclog hoppers, tanks or containers, infeed piping or screening units.
We have several tools capable of producing spheres from Ø30 to Ø70 mm.
We can also produce spheres or pellets in most elastomer materials:
- Natural rubber
- Parablond
- Silicone
- Viton®
- Polyurethane
- Neoprene®
- SBR, etc.
The cleaning spheres can be made in varying hardnesses (from 35 ShA to 95 ShA), with different degrees of rebound.
We can supply FDA or 3-A food-grade* spheres, in whichever color suits your applications.
Call our technical services for more information!