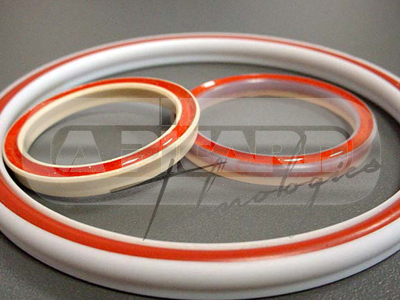 Better known under the brand name Variseal®, Spring-Seals are seals machined in a U-shape, into which a V-shape spring is inserted to maintain the pressure of the lips against the surfaces to be sealed.
Spring-Seals can be made from diverse materials (Sideflon®, PTFE, Ekonol® filled PTFE, UHMW-PE, etc.). The choice of material will depend on where the seals are to serve and on any usage constraints.

For Dairyfood applications, it is recommended to fill the seal groove with FDA or 3-A Sanitary approved silicone to prevent product remaining in the seal's central cavity and bacteria developing.
See Springseal performance characteristics – View profiles