Every year, PICARD Technologies® develops new high-performance elastomers in response to the most challenging of modern industrial demands.

Our goal: to offer the most appropriate solutions for your sealing needs.
PICARD Technologies® has the capacity to produce O-ring tools in our workshops, thereby reducing costs and delivery times for customers.
We are committed to finding the best answers to your specialized requests, such as for non-standard sizes, specialized materials, non-standard hardnesses, personalized colors, compliance with specific or recent norms, etc.
Small quantities very quickly or larger quantities – we tailor our solutions to your needs.
Here are a few examples of custom mixtures our product range offers: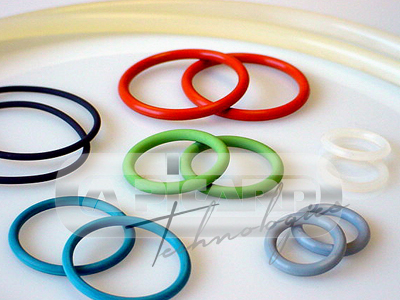 Elastomix®, an elastomer exclusive to PICARD Technologies®, designed for dairy & food applications.
Elastomix® has a high resistance to oils and greasy substances, to steam, certain solvents and hydrocarbons, and can be used at temperatures up to 175°C – 350°F. Thanks to its excellent property combination, Elastomix® can be substituted for several elastomers and help reduce the inventory we need to manage. In most cases, Elastomix® can replace EPDM, Nitrile® and sometimes Viton®. Elastomix® is FDA and 3-A approved.
Elastomax® is a perfluorinated elastomer, or an FFPM, comparable to Kalrez®. It combines very high chemical inertia with a greater resistance to high temperatures than the majority of elastomers. Our Elastomax® line includes several specific grades that meet the stringent demands of critical applications. For more information, click here.
We have several different formulations capable of satisfying your application needs;
-High temperature grade up to 320°C – 610°F,
-High chemical grade,
-Food stuff grade (white or black, FDA),
Other examples:
• Silicone: high tear resistance, high resilience, complies with 3-A, FDA and EC No. 1935/2004 standards;
• ACS-approved EPDM and peroxide cured EPDM;
• Viton® steam, FDA-certified food color additives (blue, yellow, green) for utilization in the food stuff and dairy industry, and in drinking water or high-temperature applications in the steel industry.
In order to give us full command of our operations, we decided to set up our own molding shop to produce our molds on site and guarantee our customers speed, flexibility, lower costs and flawless quality.