What is Sideflon®?

Sideflon® is a modern material developed by PICARD Technologies® in 2011.
The original objective was to obtain a material whose technical properties would rival, if not better, those of PTFE + 25% carbon/graphite, a benchmark in the industrial sector, while remaining food grade (FDA and EU 1935/2004).
After 3 years of trials and multiple tests, we exceeded our ambitions.
Sideflon's® main properties: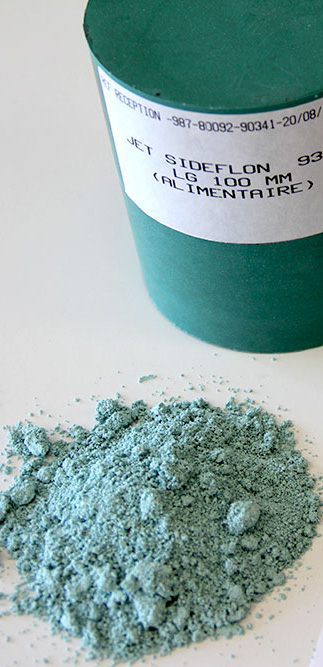 - Low coefficient of friction (0.19 versus 0.34 for PEEK-filled PTFE or 0.6 for bronze-filled PTFE);
- Good PV limit, ideal for slide bearings;
- Low thermal expansion coefficient compared to PTFE;
- Excellent chemical inertness: resistant to oil, greases, vapors, solvents, hydrocarbons, etc...;
- Resistant to hydrolysis and low moisture absorption < 0.02 %;
- Food safe (FDA-approved, EU 1935/2004, 3-A registration in progress);
- Good resistance to cleaning agents used in the food industry (CIP);
- Temperature range of -180° C to +260° C, depending on end application;
- Excellent wear rate (5.2 compared to 7 for 25% carbon/graphite PTFE);
- Eliminates stick-slip effect, ideal for applications requiring very precise, smooth movements;
- Ideal for piston seals, composite seals or volumetric filler pistons.
Our tests show that, in certain applications, Sideflon® lasts 4 times longer than certain filled PTFEs, such as 10% Ekonol® PTFE or 10% PEEK PTFE.
Sideflon® is a registered trademark of PICARD Etanchéité®.